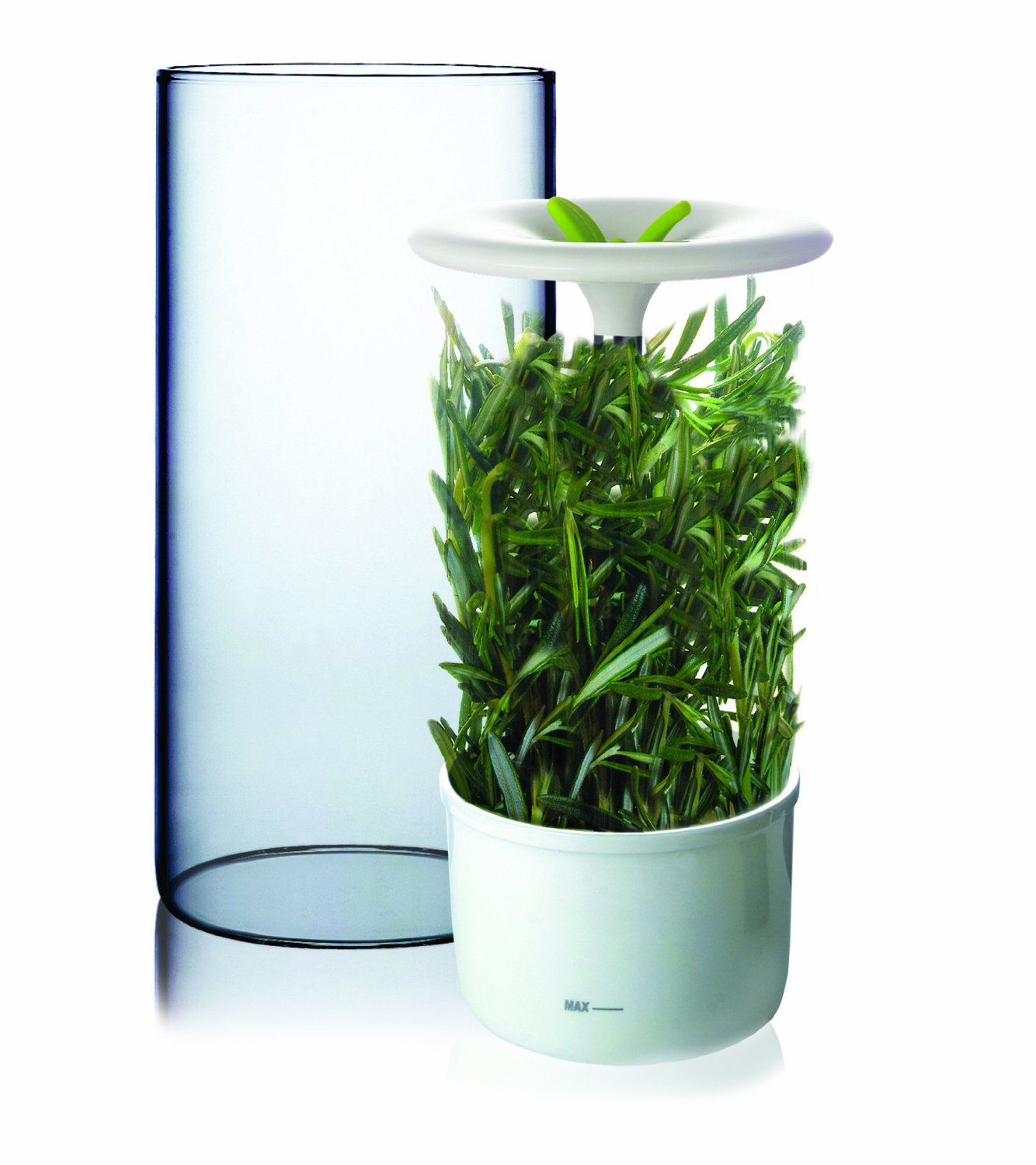 Don't have an herb garden of your own?  No worries, try this nifty fresh herb keeper! Why?  Because fresh herbs are an essential component in healthy cooking … adding a ton of flavor without additional fat and significant calories.  
Fresh herbs bursting with flavor bring a dish to life. Fortunately the people at Art and Cook heard the cry and took up the challenge and produced the Art and Cook Fresh Herb Keeper, a practical cylindrical design that holds fresh herbs and keeps them that way up to two weeks or more, without taking up a lot of space.
How It Works
The idea is a simple one. Art and Cook took a design that works somewhat like a terrarium for herbs.
You remove the top, place your herbs in the container. The bottom is the vessel where water is stored.
Once you recap the top and have enough water in the bottom reservoir, the Herb Keeper locks in moisture, keeping the herbs hydrated and fresh.
The durable clear plastic container displays the herbs at a glance, and every time you open the refrigerator, you'll have a lovely reminder that your herbs are fresh, looking healthy and vibrant.
The Pros to Owning One
Let's face it not everyone has the luxury of a greenhouse where fresh herbs can grow year round.
For the rest of us, we usually buy fresh herbs at a local market and hope they last long enough to be used for a couple of meals before wilting and going bad. It's like throwing money into the garbage when we have to return to the store to purchase the same herbs that could have been better preserved if only we had the Art and Cook Herb Keeper . . . thereby saving money.
With the Herb Keeper even after days herbs are vibrant and fresh enough to use again, a cost saver, and at such an affordable price this handy gadget will pay for itself in no time. Simply make sure that the water supply is where it's supposed to be for maximum herbal hydration.
The Benefits
Herbs are essential for providing nutrients packed in small portions
Herbs help to achieve maximum health benefits and are better for you than nutritional supplements because they're natural
Herbs strengthen the immune system
Herbs have a host of health benefits that range from having anti-inflammatory properties to staving off Alzheimer's disease
The Art and Fresh Herb Keeper is easy to use, easy to store and is a lovely addition as a fresh herb container displayed either on a shelf, in the pantry or in the fridge
A child can figure out the user friendly design. Simply pop off the lid, fill the bottom chamber with water, add your herbs and snap the top back on and place in a spot where you can enjoy watching your herbs spring to life while they stay hydrated and cool
Easy to clean
Affordably priced
The Art and Cook Fresh Herb Keeper has a pretty good track record and you can order yours right HERE.
……….