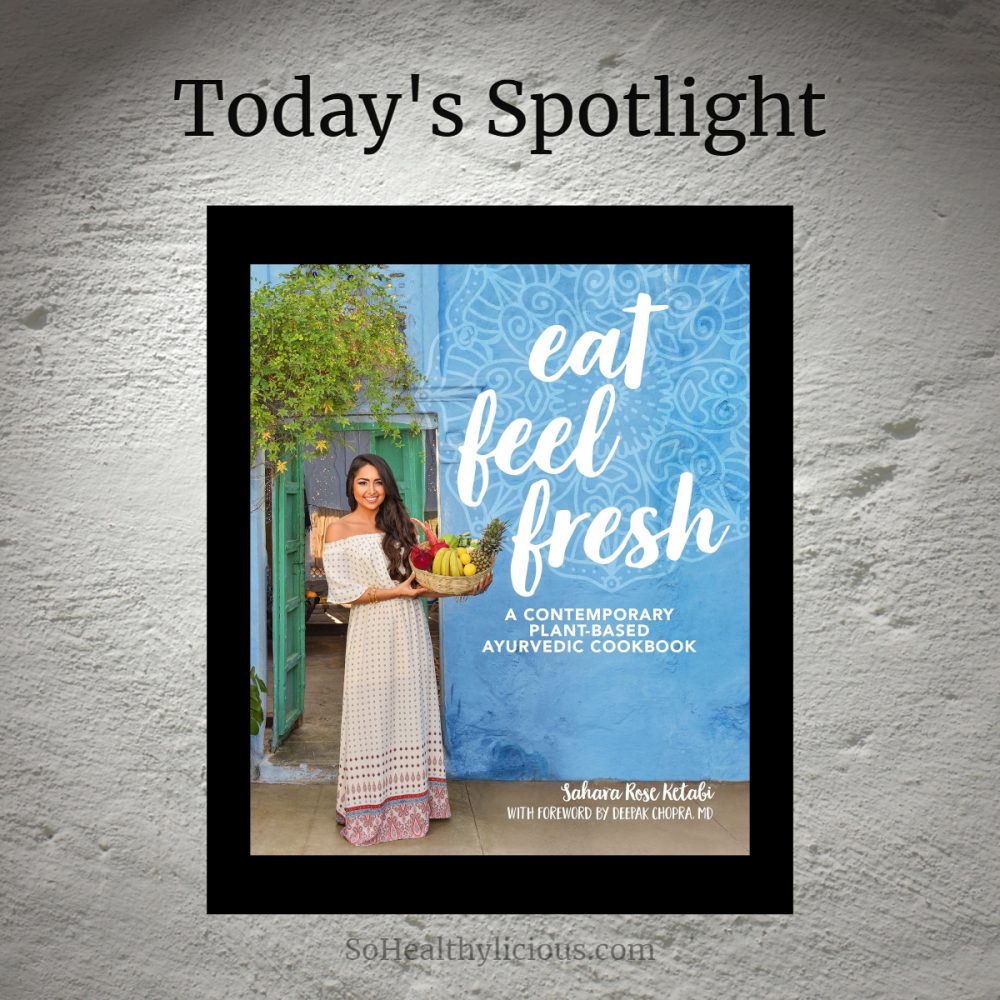 There are many ways to approach the concept of vegetarian eating. But if health is one of your primary reasons for pursuing it, then you'll want to read Eat Feel Fresh: A Contemporary, Plant-Based Ayurvedic Cookbook by Sahara Rose Ketabi.
The ayurvedic lifestyle is all about using food for medicine, healing your body from the inside-out. You've probably seen recipes lately in restaurants such as turmeric cauliflower. It's a trend on the rise, and while you're consuming a meat-free meal, you're also helping your body balance itself using the healing recipes.
Ayurveda is an ancient medicinal practice but it's not a one-size-fits-all.
Each person has unique needs, so it's important to figure out what yours are and choose foods that will help you the most. The author will help you with this process, teaching you how to identify your mind-body type so you can apply the right foods.
She even goes over the seasonal issues you may face in regards to your digestive system, so you can make changes throughout the year according to your most pressing needs.
And you won't have to worry about calorie counting. With Eat Feel Fresh (affil. link), it's more about the quality of the food than the quantity. You're going to give your taste buds an explosion of flavor that lasts.
As you transition over to the ayurvedic way of eating, you'll probably see some weight loss, but more importantly, you'll feel better than you ever have. There are over 100 recipes to choose from and they're vegetarian, but also dairy and gluten-free.
The recipes are easy and doable for any skill level in the kitchen. You'll know how to stock your kitchen with ongoing necessities so you can whip up a delicious, mind and body healing meal in an instant.
There will be lots of turmeric used, but also ginger and broths made with seaweed that promise to heal your gut and soothe your digestive tract. You'll love the amazing photos that accompany the recipes, too.
The ayurvedic way of eating has a spiritual component to it. It's not just about eating for energy. It's about fueling your body and soul with what it needs to thrive and help you live your best life.
---
---
"So Healthylicious" is a participant in the Amazon Services LLC Associates Program, an affiliate advertising program designed to provide a means for sites to earn advertising fees by advertising and linking to amazon.com. Any revenue made from sales through these links helps to support this site while we continue to provide quality content . . . so thank you very much!
---