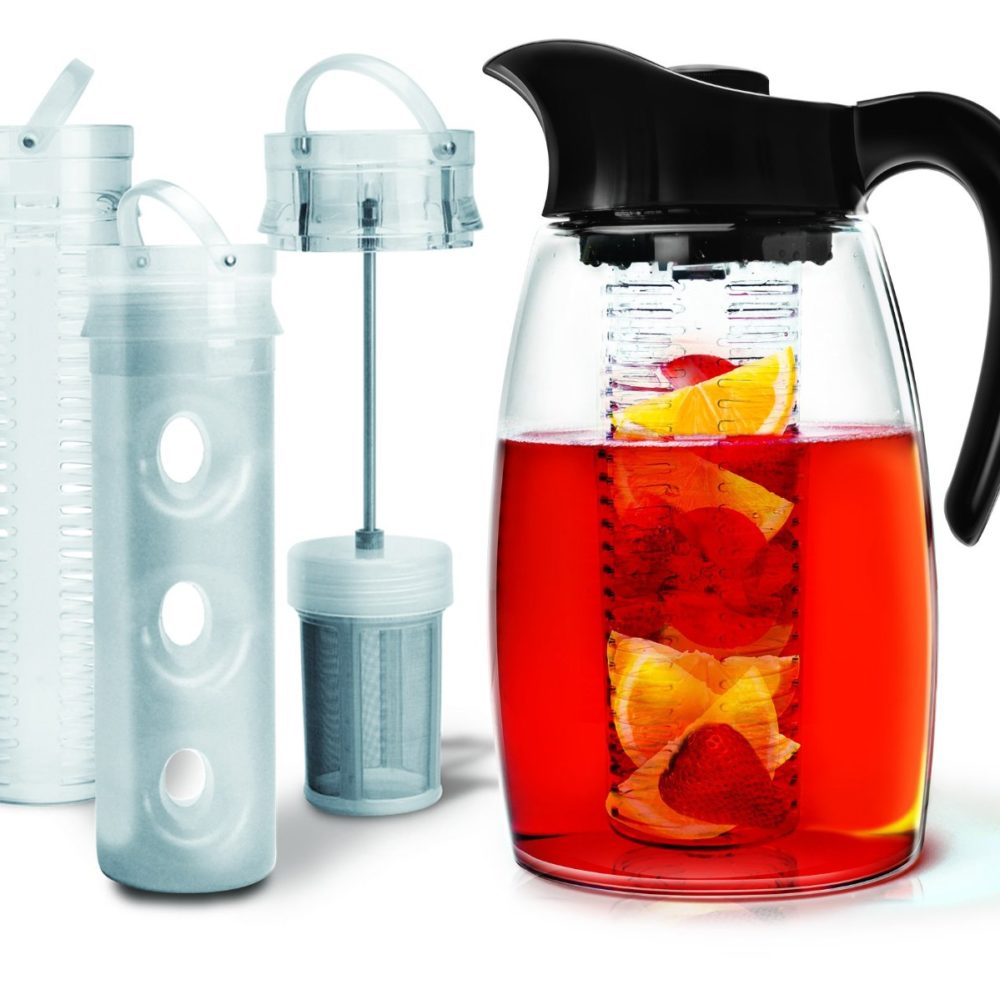 Drinking more water is healthy, but drinking as much as you need daily can be a challenge for some people. If this sounds like you, you may want to invest in any of the top infusion water pitchers. These pitchers allow you to put fruit, vegetables or herbs inside to make it more flavorful.
The best thing about using these pitchers is that you'll also get the benefit of the vitamins, minerals and antioxidants that fresh fruits and vegetables provide.
There are several infusion water pitchers on the market where you'll get good value for your money, but here are our top picks:
1:  Prodyne Fruit Infusion Flavor Pitcher
This large capacity, BPA-free acrylic infused water pitcher has a removable slotted core that allows fruits, berries, citrus wedges, herbs and more to mingle with the water better. This video gives you a really good overview of its features …
 It's a consistent best-seller with hundreds of positive reviews.  However, one down-side is that it should not be put in the dishwasher. Hand wash only.
Capacity:  93 ounces
Size:  10.5 inches tall
Color:  Clear
Dishwasher Safe?  NO; you'll need to hand wash this pitcher.
All in all, the Prodyne Fruit Infusion Flavor Pitcher remains a top choice among those who regularly make their own healthy infused waters.
………………………………..
2: Primula Flavor-It Infusion Pitcher
You can make awesome infused waters in this pitcher, but it's actually a 3-in-1 beverage system.
You get an impact-resistant, BPA-free pitcher as well as three different cores that insert into the pitcher: one for fruits & herbs, a stainless steel screened core to brew teas and one "chill" core which allows you to keep beverages cold when you use it as a regular pitcher.
Capacity:  2.9 quart
Size: About 11 inches high
Color: Clear with a choice of four different colors tops
Dishwasher safe?  YES; but some buyers choose to hand wash.
Read more about the Primula Flavor-It Infusion Pitcher and get it at a great price.
………………………………..
3:  bobuCuisine's Juice Boost Infusion Pitcher
Made of high-quality Borosilicate glass, loads of people absolutely love this pitcher for its stylish design, its drip-less stainless steel top and its built-in BPA-free strainer.
This reviewer shares a pretty balanced overview of this infusion pitcher:
The size of this infused water pitcher is seen as a real plus for some folks and for others, not so much.
For those who are limited in refrigerator space, this pitcher will definitely take up less room and can even fit in most refrigerator doors.
While others claim that 33 ounces isn't enough available drinking water on-hand at one time … I say just view it as a "pitcher-for-one" and refill it, as needed.
Capacity:   33 ounces
Size:   9 inches tall
Color:  Clear Glass with Stainless Top
Dishwasher Safe?  NO;  Hand washing is suggested.
The bobuCuisine's Juice Boost Infusion Pitcher will definitely inspire you to drink your fill of hydrating goodness.
………………………………..
Not only do infused water pitchers help you drink more water, but by drinking more you can flush toxins from your system, boost energy levels, improve your skin tone, even lose some weight, if you need to. So go ahead and grab one of these pitchers and start hydrating in a fun, flavorful way!
You may also like …
Infused Water … Oh the Benefits!